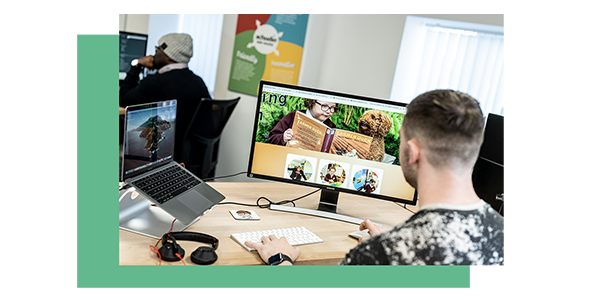 Creating engaging visual content for your school is important to include across all your media platforms. From your website to your Social media to your emails and all Print materials. Having engaging visual content for your school increases parental engagement and provides better communication with your audience and students. If you want to learn more about parental engagement you can access our free guide here.
Studies show that students and people learn more and retain information a lot longer when there are visual assets associated with the text material. The research shows that people remember 20% of what they hear and around 30% of what they see and 50% of what they both see and hear. Therefore it is well worth adding engaging visual content. However, as a teacher time is limited and also it can be hard to know where to start.
Here is a list below of some great tips to save time creating engaging visual content for your school and some tips on where to start.
Make It simple
When creating engaging visual content for your school you may think it needs to be jammed packed full of material, colour and text etc... for it to be effective. This simply isn't the case. Think less is more. There is no need to make it any more difficult than it already is.
So where to start you might ask? Well, you first need to think about what the content you are creating is for. This greatly impacts what to include in your content. If it's for Social Media you can create a graphic with text, use a photo or a quick video of the day in life at school.
These are just a few examples. You can view more social media post ideas for schools here. Creating content for social media should be quick and snappy and the shelf life of the content expires quickly. However, if you want amazing content for your website say an infographic on your school's values or include great photos of a school day trip in a school's blog post. You can take more time on these times of content as these will last longer. Again don't be tempted to overdo it with too much design.
Saying this, it can be intimidating starting from a blank canvas. This brings me to my next point.
Use free online graphic tools
Using a free online graphic tool such as Canva or Piktochart is a game-changer for teachers. If you're not already using something like this you need to start.
The reason why these online graphics tools are so useful is because they have tons of templates that can be edited by you free of charge! These online graphic tools have templates that are tailored to the education sector. Therefore all you need to do is type in what you are searching for example a Twitter post. it will show all the different examples and you edit the content as you wish. They have plenty of customisable options such as fonts, colours, sizing, photos, illustrations and much more!
If you can't find what you are looking for you can similar upload your own content such as a photo and add it to the template. Once you are finishing designing you can export the design and upload the content where you need it. These online graphic tools are so easy and simple to use and take out a lot of the hard work for you. Ther're a lot of different ones out there so you just need to find the one that works best for you. However, the ones I have mentioned are the most popular. There are lots of youtube tutorials to show you how to best use these tools if you need further information.
Re-use your content
Lastly re-use content where you can. It is hard to maintain and to create engaging visual content for your school at a high level. So every now a then you can re-use old designs. This is especially useful for social media as it is so fast past. An example of this could be sharing a video or photo of a past sports day and you can post saying looking forward to our school's sports day make sure to remember your kits. And it's as simple as that. Hopefully, these tips helped and you are able to create engaging visual content for your school with ease.