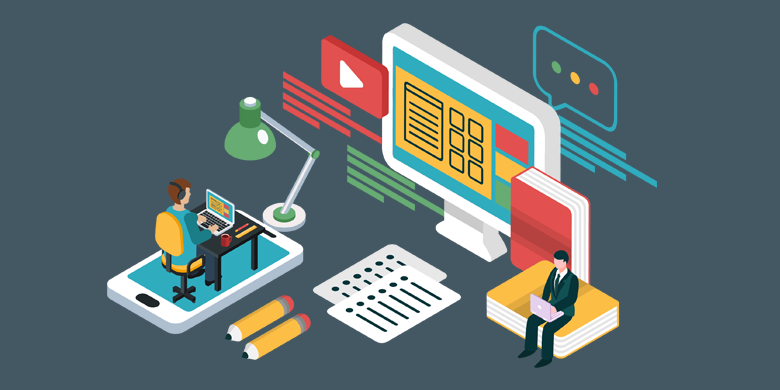 They say knowledge is power and at Schudio we couldn't agree more. We want to equip you with the knowledge and skills that you need to use your website. Your website is a powerful tool to attract, engage and delight your parents. With a New Year ahead of us, with us living in uncertain times your website can become a powerful tool for Home Learning. So, why not take full advantage of our website training so you can take full advantage of your website?
School Website Training Option 1: SchudioTV
We understand time is short and budgets are often low. Coming to training, although worthwhile, can be costly and an added pressure for schools trying to arrange cover. As a national company, we also recognise it is not everyone can come to the North West for training.
So, we came up with a solution to that problem - SchudioTV.
SchudioTV is our on-demand learning platform. It allows schools access to expert training without leaving school.
The courses are self-paced and full of helpful content. Why not have a browse over the courses we offer and enrol yourself in a couple of the free courses to see what we can offer? We have had SchudioTV for a while now and with over 44,ooo people having accounts, it's safe to say there is something for everyone.
One of our most popular courses is the School Website Compliance Course. This course is perfect for making sure your website has everything you need for getting your website to 100% compliance ready for an Ofsted Audit. At one payment of £47 for life, this course is a must-have for any School.
One of our most recent courses goes with a feature with have just released, School Form Builder. The Schudio School Form Builder is a free feature for Schudio School Website Clients. The course is free to enrol on too. This short course gives an introduction to how to use the Form Builder effectively within your school, college or MAT.
School Website Training Option 2: SchudioCon
Some of you last year may have seen us advertise SchudioCon and hopefully, you were able to join us. If not then take a look at the talks that went on here. SchudioCon is a great way to dip in and watch the specific talks you need to transform how you manage your school website and engagement or watch them all. So, it's up to you!
These talks are great, in-depth knowledge to different areas which will affect certain aspects of school. With each talk led by someone with experience and valuable knowledge, it's a great way to ensure you are taking full advantage of everything at your disposal.
School Website Training Option 3: SchudioTV - Essential Website Training
The Essential Website Training is what it says on the tin, Essential for any Schudio Website Clients. Whether you are a new client or have been with us for years the Essential Website Training Course is what you need to handle your website.
So. if you are a new client this is a great way to understand how to edit your website and get a feel for how it works. Alternatively, if you have been using the system for a long time it wouldn't hurt to have your knowledge refreshed and you may even learn something new. This course is free for all Schudio clients so do email hi@schudio.tv if you want to enrol on this training course.