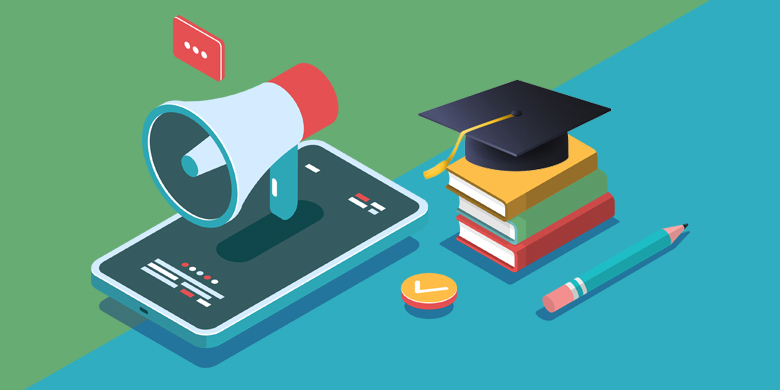 Schools need marketing just like any other business. But what are the most effective methods for a school to market their school and to improve their Parental Engagement? Your school is part of an engagement flywheel, now this is a pretty simple concept. Parents and students are always at the centre of everything a school does, and around this is your school website. It holds all the resources that really drive your audience to your school. The surrounding area is then to attract, engage and delight your audience, this is where your marketing strategy comes in. 
You need to be doing everything you can to entice your prospective audience and having a clear cut marketing strategy is the only way to do this. 
Your Marketing Strategy
With parent expectations now higher than ever, having a marketing strategy for your school is vital. But it can also seem complicated and overwhelming. There are 4 steps you need to create a successful marketing plan for your school.
Define your goals
Before you do anything else you need to ask yourself, what do you want to accomplish? Your goals form the basis of your marketing plan. The best way to do this is to create SMART (specific, measurable, attainable, relevant and time-based) goals.
Analyse your situation
You need to identify where your school currently is. You can do this by performing a SWOT (strengths, weaknesses, opportunities, threats) analysis. Strengths and weaknesses are internal and can be controlled by your school. Whereas opportunities and threats are external and come from the environment in which you operate.
Define your value proposition
Defining your school's values is a key part of your marketing. Your messaging needs to be clear and unique so families can understand what sets your school apart.
Outline your key strategies
This is where we get into the nitty-gritty part of your marketing plan. You need to pick the best strategies for your school, I've listed my top choices below.
School Website
Your school website is a key part of your marketing strategy, it's the hub of all your online content. It's the first port of call for current and prospective students/parents as well as Ofsted inspectors. So it really is the most powerful tool you have to engage your entire school community effectively. 
When looking at your website the first thing you need to do is check how responsive it is. If it takes too long to load or visitors can't find what they're looking for, then they will leave your site. 40% of website visitors will leave if the site takes more than 3 seconds to load. A good rule of thumb to follow is if it is more than two clicks away then it's too hard to find. Parents have clicked on your website for a specific reason and if they can't find it they're not going to search for it. Make your website easy to navigate and that parents can find what they are looking for in seconds rather than minutes. 
Your website structure is vital, ensure that your content is structured in a way that is rational and puts the information that your users are searching for front and centre. Schools are often under pressure to add content quickly but make sure you add it to an existing page or use document groups to keep things organised. 
Your website also has to look good. 94% of first impressions are design-related. If it's old and you don't regularly update your content then that reflects poorly on your school and parents aren't going to send their children there. Your school website and content need to set the example for your school, it has to sell itself. If you're looking for more help with your website here are 3 school website features that you need to be using!
Social media
I've said it before and I'll say it again, social media is one the best marketing tools you can use. It's essential to building a community and reaching an audience instantly. Alongside looking at a schools website, parents will check out their social media. They want to see how active you are and whether you showcase everyday school life. Being on social media will build your online presence and strategically choosing your social platforms will be a great asset to your school's long-term communication strategy.
Always make sure you add your social profiles to your website, one of the best things you can do is link your website and social content together. They are an extension of one another but also meet different needs, so a great way to integrate the two is to add links to your social media posts, this pushes people towards your website. With social media being so important, it's a major part of your marketing strategy.
For more tips on the best content to post and how to engage parents check out this blog post: How social media can improve your parental engagement.
SEO (Search Engine Optimisation)
As a school, your search engine presence is vital in attracting and engaging parents. You want to ensure that your school ranks as one of the best for whatever they are looking for. 
Google looks at a range of things to determine your ranking, like keywords, images, content length, frequency and mobile-friendliness. Quite a few factors that you need to consider. 
Keywords
You need to research education keywords that your target audience will use to research schools. Once you've done that you then need to integrate these words into specific areas of your blog post, so that would be the page title, the URL, the first paragraph of your content and the meta description. The one thing I will say is this needs to be as seamless as possible, if search engines suspect you of trying to stuff the keywords in then your ranking will take a hit. It's all about finding the balance and using the right keywords for your audience. 
Images
Using images also plays a part in boosting your SEO ranking. Are your images properly sized? Anything that is too small or too large will have a negative impact on your SEO. Are images tagged? You need to make sure you add the correct alt-tags to images so the search engine can recognise the content. Posting images within your blog post as well as setting your featured image will really boost your SEO.
Posting Frequency
How frequently you post has a big impact on your ranking. To make an impact in your google ranking you need to be posting content regularly. To help with this I recommend putting together a content schedule so you have clear goals to meet. 
Content-Length
When we talk about content length there are a few things to consider. The minimum number of words you need to hit for your SEO is 300, not a lot right? It's all about finding the sweet spot between quantity and quality. A really good informative blog post may only be 300 words and sometimes that's so much better than waffling on for another 700 words. 
Mobile-friendliness
Ensuring your website loads on a phone is so important, if it takes too long or doesn't load correctly this will have a negative impact on your SEO. 52% of users say that a bad mobile experience made them less likely to engage with a business. So always check how long it takes for your website to load and how it looks on a phone. 
A few other things you can do to improve your SEO is to have a good blog layout. This means using the correct headings and subheadings. For all Schudio blog posts, we use Heading 2 for our subheadings, having consistency across all posts makes a big difference. It's also important to include internal and external links. For 2 reasons, firstly it helps search engines find your pages easier and secondly it encourages visitors to stay longer and explore your website.
Blog
Your school blog can be a vital part of your marketing strategy if it's done the right way.
It's one of the easiest ways to effectively engage with your school community. A number of short informative blog posts can provide a deeper insight into your school or college than a lengthy page of text, policy document or prospectus. Blog posts can be regularly updated and can be written in a different way from the more traditional more formal documents. Student blogs or teacher blogs are useful in sharing the great work your school does. 
As well as promoting engagement, your school blog will also naturally help with your marketing. The content created and shared will give them a unique insight into school or college life. So showing off how fantastic your school is, is becoming increasingly important too. 
Like I mentioned in the SEO section, your blog is a really effective tool for increasing your ranking within search engines like Google. You have a higher chance of being ranked in a search engine if you blog than if you don't. 
Blog posts covering different topics and answers can be really helpful in creating content on your site that effectively answers questions that visitors to your school might have. By posting blogs regularly, it shows that your website is frequently updated and leaves a better impression on your visitors. If you want a deeper dive into why school blogs are so important, take a look at Nathaniel's post here! 
Email Marketing
Communication between parents and schools is vital and a key part of your Parental Engagement strategy. Email newsletters cost nothing and are a great promotional and communication tool. Whether you are sending out weekly or monthly newsletters here are 2 key things you need to remember. 
Email Lists. If you're not already segmenting your email data, you need to start right now. It essentially means grouping your audience according to their specific needs. You can then send them tailored emails which they are more likely to open. It's also a great idea to set up automated workflows that are proven to save you time and increase email engagement. Many schools are using Schudio's Form Builder software to build automated workflow campaigns.
Subject line. 35% of people open an email based on the subject line so this is your one and only chance to impress them. When thinking of your subject line, keep it short and sweet. 77% of emails are opened on a phone so if it's too long it will get cut off. When thinking of what to write, always give your audience something of value and let them know what they'll be getting in the email.
Putting these two key points into action will lead to great results from the offset. To further your email skills, take a look at How to master email marketing for schools!
Improve your online reputation
Online reviews are as important as a personal recommendation. So by actively encouraging online reviews, you have an opportunity to influence potential parents' decision-making before they've even made contact with you. 90% of consumers read online reviews before visiting a business. If you don't have 4 or 5-star reviews, you may never earn a click-through to your website. Which should be one of the goals you listed above.
The first place you should look at publishing testimonials is your website. There is every likelihood you are already doing this. But you can have these testimonials marked up with what is called 'Review Schema'. If you do this, Google may use the info to add a structured snippet to your search result – making it stand out from the competition. This feature will then attract more clicks to your search result.
The next priority for your online reviews is your Google My Business listing. When you google your school name, you'll see your school's information on the right-hand side. Among the info is 'Reviews'. A lot of people will look at this section so make sure you have good reviews. It's always great to encourage parents to leave reviews. But be careful how you do this, you don't want to bombard them. 
What next?
I've given you a lot to think about in this post but even implementing the smallest changes can make a huge difference.
Parental Engagement Guide: Our free Parental Engagement Guide is a really great resource to get you started on your marketing journey.
SchudioTV: We have a number of different courses over on SchudioTV that you'll find really helpful. We also have three new courses, Social Media for Schools, Blogging and HTML, launching in the Autumn. If you want to stay up-to-date with new releases then subscribe to our monthly SchudioTV newsletter.