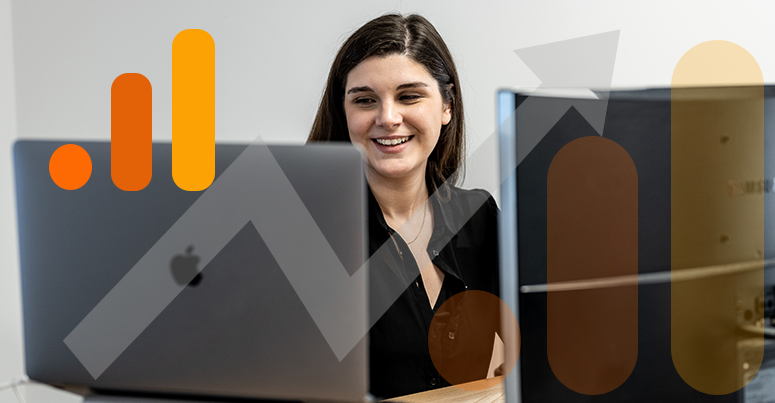 So What is Google Analytics Anyway?
In this blog, we take an in-depth look into Google Analytics for Schools. Google Analytics offers data and analytical tools to track and gather user metrics on your website. This free service is part of the Google Marketing Platform and is free to use.
Google Analytics is instrumental in monitoring how much traffic your website is receiving. You get insight into trends to help you make sense of the Data you are visualising.
It helps your website's Search Engine Optimisation (SEO) standing which will in turn increase the visibility of requirements criteria set in the school's website requirements guide.
This will no doubt assist you in making well-informed business decisions for the school.
We want our users to feel comfortable learning about leveraging this essential tool to optimise your school's website journey.
How to Set Up Google Analytics
To take your school's web presence to the next level, we need to set you up with Google Analytics. The good news is we are happy to set up your Google Analytics page for you. You need to provide a Google Activated email account. We will use this email to set your school up as an organisation under Schudio's Google Analytics account.
Once we have registered you, the registered email will receive a confirmation email giving you log-in and access details or you could simply log in by going to the Google Analytics Website. We set you up with read-only access unless your school has informed us they would like editorial access. We recommend this only if you are comfortable with Google Analytics.
If you're feeling confident you would like to set it up yourself this is possible as well, simply register and sign up on the Google Analytics Website where you can find your unique tracking ID. This can be found in the Admin section of Google Analytics.
If you're using the Schudio School Website Software, Simply go to your admin area, then to settings >>tracking and add the GA code which has a format similar to G-XXXXXXXXXX. Press save and you will be tracking your site usage instantly.
If you aren't using the Schudio School Website Software, a web developer may need to integrate it for you.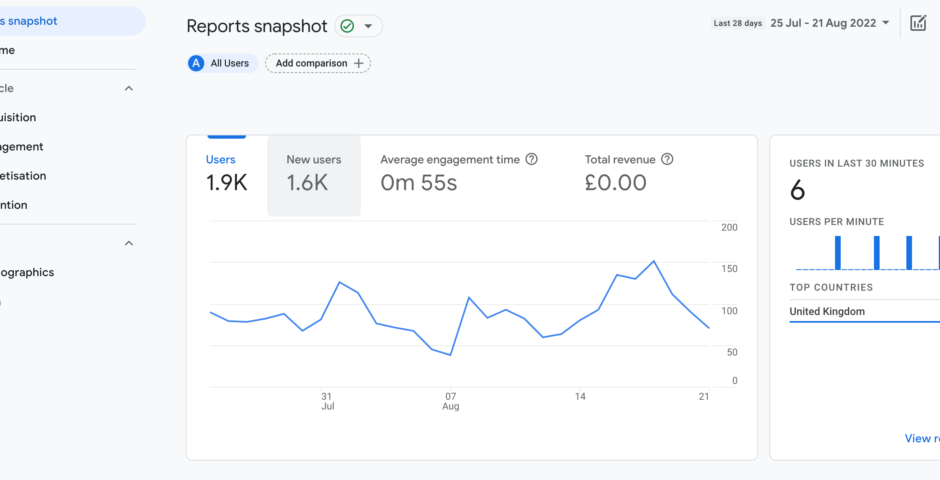 fig 1.0
Navigating the dashboard console
On the first welcome page, there is a left-side panel that links to several infographics.  These give you a very quick overview or snapshot of your data.
Listed below are some of the areas that may be of interest once logged in.
Realtime overview: Shows information such as the locations of users, how many users the website has had in the last 30 mins, what devices they are using to access your website, pages that users are landing on when they visit the site etc.
Acquisition: This shows where your users are coming from and how they got to your site. It will give you information on users who found you online by organic searching on google or directly inputting your web address and much more.
Engagement: Shows information about who is looking at your website and how much time people are spending on your website, what events are they doing etc.  You can look through this by events or pages and screens that have been visited by users.
Demographics: Shows information such as the locations of users e.g country, city, gender, language, age etc.
Tech Overview:  Shows information about the technology used by your visitors to access your site such as Apple macOS, Windows OS, iOS and Android devices, as well as browsers they use e.g Chrome, Safari, Firefox etc.
Search Bar: The new and intelligent search facility on GA-4 can do things such as answer direct questions regards your metrics, view reports and even display the results right there on the search pane without navigating into the web page itself.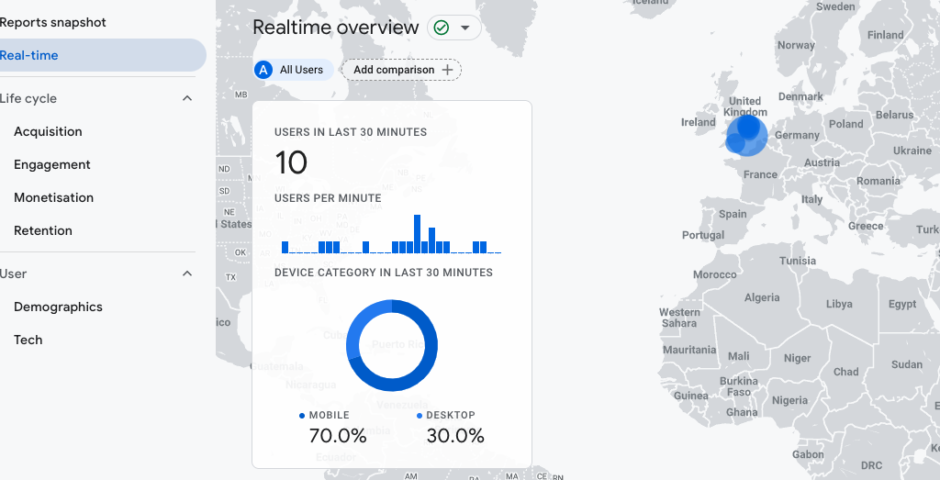 fig 2.0
So what does this mean for you?
The engagement section is very helpful to see trends of what time periods your website appears most in demand. This could be beneficial in helping you schedule blog posts or news articles to increase visibility.
Visitors may reach your website using a search engine such as Google, or via campaigns. Knowing how they got to you will give you insight into which areas to further advertise.
The Pages and screens section within engagement delves into page performances, you can see best-performing pages and try to analyse why they are doing well. This can give you an insight into improving other pages on the site you are trying to divert traffic to. e.g, If there is a particular page that most users visit, or perhaps a document they download such as your prospectus, you may want to look at innovative new ways to add links from that page to some other pages.
User demographics can go a long way in understanding your audience. e.g, if you observe visitors of a certain age range, browsing with mobile devices and located within a certain county, you could create campaigns to advertise more in that region and ensure the information is displayed well in mobile mode.
Universal Analytics, the predecessor to the current GA-4, has a feature known as "bounce rate" this was used to measure how quickly users exited your website without completing events or tasks. With Google Analytics 4, the engagement section replaces this.  If the visitor to your site is on your fees page, for example, you might want to add a link to your scholarships page as well, as well as links to other perks you offer. Adding an engagement feature such as a survey for parents can also improve interactivity and keep them on the site longer.
Google Analytics Next Steps for you
Google Analytics as a product is robust and offers a lot of features and data metrics. Not all features may be immediately required for your school; however, it's great to have the options available. Sounds exciting? Enjoyed delving into an in-depth look into Google Analytics for schools? Well, it just so happens that we've created a full course on how to use Google Analytics for Schools. or why not get it as part of our School Marketing & Communications Membership.