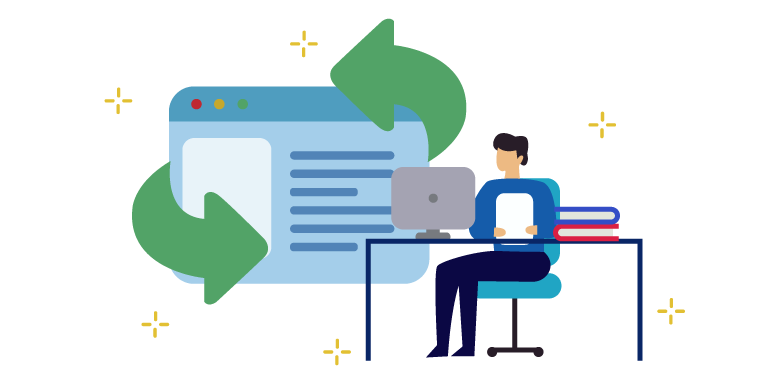 Does your website paint a picture of life at your school? Or is the content out of date and leaving your visitors wondering what life at your school actually is like? Keeping your school website content fresh is key to parental engagement. But how do you keep your school website content fresh throughout the year?
Keep your news section up to date
You have heard us mention this before, but it really is that important. Creating regular news items for your school website lets people know exactly what is going on at your school, and what your school thinks is worthwhile celebrating.
If you are not updating your news regularly then it can be really obvious to a website visitor that this section is out of date. And if your news is out of date, then is the rest of your school website content in date? Out of date news can plant seeds of doubt in the visitor's mind.
Take some time at the beginning of this year to establish your school website news strategy. What do you want to share with your audience? Realistically how often should you aim to do this so that it is sustainable?
Use seasonal images and graphics
Schudio website designs give you the opportunity to control more than just your school website content. Design elements such as your photos and graphics can also be updated. The main locations for this are within your scrolling photo banners, box menus and of course within the content.
A lot of schools choose to have professional photos for their website, and they always look fantastic. But it's also a good idea to collect photos throughout the year so you have a seasonal collection of photos. These types of photos always work well alongside professional photos and do not just capture the school activity at the time of year the photography day. So, if you see something great then quickly get your camera out. Think of the playground in the snow, an Easter event, sports day - these all make great photos. You can then update your homepage banners, in just a few clicks to reflect the season we are in.
You can also create your own graphic based banners to update people on seasonal events and messages. A free tool we recommend is Canva. You can insert your banner dimensions and get to work designing your own custom banner.
Regularly restructure
It feels strange to make this claim after such an unpredictable 2 years - but there are certain elements of the academic year that are predictable. Therefore, we can make assumptions about the reason why people will be visiting your website at various stages of the academic year. A great way to keep your school website content looking fresh is to move relevant content to the forefront during the appropriate seasons.
For example, during the admissions window, why not move your admissions content to the top menu so any prospective parents can find it without going hunting? This is meeting the need of your audience and sets a great first impression.
Schudio website clients enjoy full control over their menu structure - so menu changes can be made by your school website administrator in a couple of clicks.
If you need more hints and tips on how to best manage your school website. Why not check out the School Website Manager membership on SchudioTV. It's packed with helpful content for school website administrators. Existing members should keep their eyes peeled for exciting new content which will be released soon!