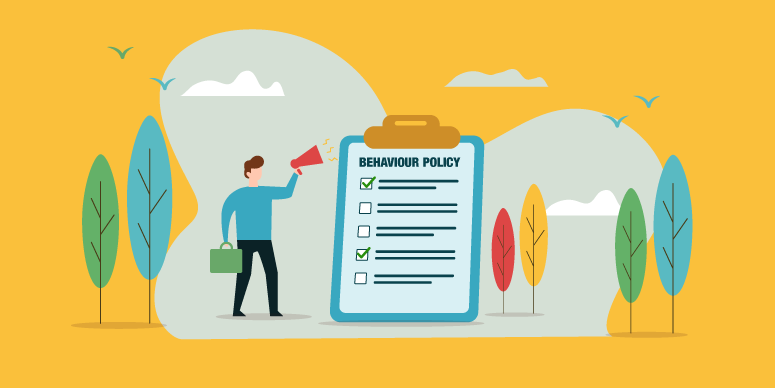 In this blog, we will take a look at the requirements surrounding your school website behaviour policy. We will cover all that you need to know to be fully compliant with the requirements set by the DfE. As always you can find full details in the School Website Requirements Guide. 
Although this is a short requirement, it is important to know what you should be publishing. You will also need to consider the most logical place to display this information.
School website behaviour policy - referenced legislation
As with all of the school website requirements, where there is legislation in the requirements, we suggest referencing this directly in your policy. Ideally, as early as possible in the policy. This sets a tone for your policy. It shows you are fully aware of the requirement and have written the policy to comply with all aspects. This principle applies to your school website behaviour policy.
In your school website behaviour policy you must include:
Acknowledge your legal duties under the Equality Act 2010 in terms of safeguarding and supporting pupils with SEND.

Some pupils require a different, more sensitive approach so tell Ofsted you are taking this into consideration.

Make sure your behaviour policy doesn't unintentionally discriminate against certain groups.
An important passage from Section 89 of the Education and Inspections 2006 Act states, "Headteachers... must ensure they have a strong behaviour policy to support staff in managing behaviour, including the use of rewards and sanctions."
From this, you must write a behaviour policy that applies to your school. Every school will have a different behaviour policy because every school setting is different.
School website behaviour policy - m
aintained schools
The headteacher must set out measures in the behaviour policy which aim to:
promote good behaviour, self-discipline and respect,

prevent bullying,

ensure that pupils complete assigned work; and which

regulate the conduct of pupils.
Ref: Section 89 (1) of the Education and Inspections Act 2006
School website behaviour policy - 
Academies and Multi-Academy Trusts
An Academy is required to ensure that there is a written policy to promote good behaviour among pupils. The policy must set out the guidelines for discipline if a pupil misbehaves. Information about the school's behaviour policy must be made available to parents on request.
In addition to a behaviour policy, academies must also have a written anti-bullying strategy. This does not apply to maintained schools.
Ref: Education (Independent School Standards) (England) Regulations 2014
Looking for inspiration? Take a look here…
Getting your policies on your school website can look fantastic. Here are some examples of schools that are smashing this criteria:
This website is well laid out and easy to follow through the policy page as it is alphabetised.
Policies are divided into groups to make finding sections easier, and well laid out policies.
Organising your school website behaviour policy (and your other policies) 
Consider how you display your policies on your school website.
For instance, if you're a Schudio user, you have Document Groups to display your policies. This is a great feature that is easy to get to grips with and makes document management so much easier.  However, if you're not a Schudio user then give some thought and consideration as to how you display your policies. Remember, if it is easier for Ofsted to find the documents, they are less likely going to pry into it.
It is best to either list them alphabetically with a consistent naming format or to display them in groups. (see above for examples of this)  If you choose to display your policies in groups you could use the following headings as examples: 'Teaching & Learning', 'SEND', 'General Policies'.
Where can you go from here?
If all of this is making you wince at how long it will take you, consider taking a look at our school website compliance course. This will walk you through the easiest ways to make sure you are 100% compliant, so you can feel confident in your statutory content.