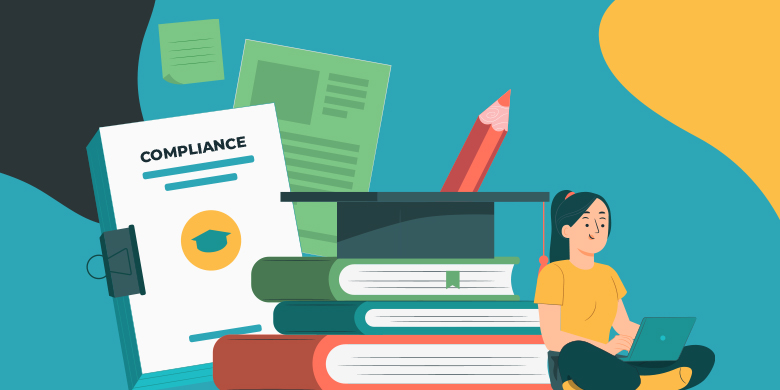 At Schudio we regularly get questions from Multi Academy Trusts (MATs) about guidance on MAT website compliance. Our useful School Website Requirements Guide helps answer most of these questions but we want to make it even easier to provide guidance, specifically for multi academy trusts. This Multi Academy Trust website compliance overview aims to provide a helpful guide for trusts. So, what are the statutory requirements for your trust website? And what about statutory requirements for websites more generally?
Multi Academy Trust Website Compliance Sections
Annual Accounts Information
The trust website must include the accounts information. The academy website requirements also list the annual accounts information as required content for the academy website. The information required under this section includes the annual report, annual audited accounts, memorandum of association, articles of association. Plus, the names of charity trustees and members and funding agreement.
For more information about what details should be included within the accounts information, and when and where it should be published see our blog about Annual Accounts Information on Your Website.
Executive Pay
It is now required for Trusts to publish information about staff earning over £100,000. Here's the information from the Academies Financial Handbook 2021:
"The trust must publish on its website in a separate readily accessible form the number of employees whose benefits exceeded £100k, in £10k bandings, as an extract from the disclosure in its financial statements for the previous year ended 31 August. Benefits for this purpose include salary, other taxable benefits and termination payments, but not the trust's own pension costs. In the case of employees who are trustees, their salary and other benefits will also be disclosed in £5k bandings in the trust's financial statements, as set out in the model trustees' remuneration note in the Academies Accounts Direction."
Individuals and Governance Arrangements
All schools must publish details about their governing bodies. However, academy trusts must also publish details as outlined in the academies financial handbook. The specific requirements around what information should be published is listed below:
The trust must provide details of its governance arrangements in the governance statement published with its annual accounts, including what the board has delegated to committees and, in trusts with multiple academies, to local governing bodies. The trust must also publish on its website up-to-date details of its governance arrangements in a readily accessible format, including:
the structure and remit of the trust's members, board of trustees, committees and local governing bodies (the trust's scheme of delegation for governance functions), and the full names of the chair of each
for each of the trust's members serving at any point over the past 12 months, their full names, date of appointment, date they stepped down (where applicable), and relevant business and pecuniary interests including governance roles in other educational institutions
for each trustee and local governor serving at any point over the past 12 months, their full names, date of appointment, term of office, date they stepped down (where applicable), who appointed them, and relevant business and pecuniary interests including governance roles in other educational institutions. If the accounting officer is not a trustee their business and pecuniary interests must still be published or each trustee, their attendance records at board and committee meetings over the last academic year
for each local governor, their attendance records at local governing body meetings over the last academic year.
Additional Disclosures
The governance handbook also advises that, when publishing information about leaders of the trust, family relationships with material interests should also be disclosed:
It must also include any material interests arising from close family relationships between those involved in governance or between them and senior employees because such interests may increase the risk of:
An inappropriate concentration of control of a publicly funded service among a small number of related individuals.
A lack of safeguards against financial irregularity and the trust not being governed solely in its best interests.
Potential negative external perceptions and damage to the reputation of the organisation or schools in general.
Therefore, this information must be provided. The DfE recommend that boards make it clear in their code of conduct that this information will be published on the website (and via the 'Get information about schools' service), and that each member of the trust leadership must provide it.
Gender Pay Gap
Trusts, as well and schools and academies, with over 250 employees are required to publish about the gender pay gap in their organisation under the Equality Act 2010 (Specific Duties and Public Authorities) Regulations 2017.
Whistleblowing procedure
As stated in the academies financial handbook 2021, the trustees must agree the whistleblowing procedure and publish it on the trust's website.
Financial notice to improve
Although this section will not be applicable to most trusts, if you are served a notice to improve, then the academies financial handbook states that you must:
ESFA will notify the trust of the date of which ESFA has published the NtI. The trust must then publish the NtI on its own website within 14 days, and retain it on the website until the NtI is lifted by ESFA.
Readily Accessible Content
The governance handbook and the guidance for school websites also requires that the board publish all governance arrangements they have put in place, in a 'readily accessible' form. This is defined as information on a webpage without the need to download or open a separate document.
The take away message here is to follow the 'readily accessible' aspect of compliance.
For more details on writing and effective scheme of delegation for a multi-academy trust see section 5.6 of the governance handbook.
Admissions Information
As academy trusts are usually the admission authorities for the schools within their trust, they must adhere to the requirements for admission authorities. There are more specific requirements for the content of the admissions arrangements, and what they must adhere to in section 6.10 of the governance handbook and the school admissions code. However, for the focus of this article, we are focusing on just the website aspect of admissions compliance.
The website requirement for trusts is:
Academy trusts must publish the admissions arrangements for their schools on their website and keep them there for the whole of the offer year (the school year in which offers for places are made).
A deeper overview of the information is outlined in the school admissions code advice, an overview is provided below:
Admission authorities must set admission arrangements annually, notify their LA and publish the arrangements on their website.
Admission authorities must consult publicly on changes to their admission arrangements .
Once admission authorities have determined their admission arrangements, they must notify the appropriate bodies and must publish a copy of the determined arrangements on their website displaying them for the whole offer year. (the academic year in which offers for places are made)
Final admission arrangements must be determined by 28th February each year. (Even where the arrangements have not changed from the previous year.)
Admission authorities for schools with a sixth form must ensure they have determined and published admission arrangements for entry into the sixth form, if they intend to admit external applicants.
Admission authorities must, as part of setting their admission arrangements, set a clear published admission number (PAN), which states the number of applicants they will admit where enough applications are received.
Privacy Policy and Data Protection
Data protection and GDPR is another aspect of multi academy trust website compliance. Compliant processing of personal data is what actually achieves compliance. However demonstration of your compliance via policies, procedures and other documentation is required.
The key item to publish is your privacy policy. This should include details of the personal information you process, and the purposes for processing. Your privacy policy may also include details about the use of cookies on your website. Alternatively publish a dedicated page about cookies and their usage. Here is a great article about how to control your school website cookies with usercentrics.
You will also need to have a SSL certificate for your website. Here is more information about SSL certificates for school websites.
Other website requirements for Multi Academy Trust website compliance
In addition to the Multi Academy Trust website compliance overview above, there are some other specific requirements that companies, in general, should publish on business letters, order forms and websites. These are published as part of 'The Companies (Trading Disclosures) Regulations 2008'. Consequently, these requirements are for every company - even MATs!
The website (and business letters, and order forms) must include the following details:
Part of UK the company is registered. (E.g. England and Wales)
Registered number.
Registered office.
But most importantly, this information doesn't need to be on every page. However, it does need to be somewhere on your website to meet these requirements, and are usually found in the footer of the website.
The Schudio Solution
To support Multi Academy Trust website compliance overview, our website solutions offers a feature rich CMS that helps you work toward Multi Academy Trust website compliance perfection. Here are our most popular feature for ensuring your MAT website is compliant.
Shared documents
With a uniformed provider such as Schudio, you will benefit from our shared documents functionality. This is where you can load any central MAT documents. You will then be able to automatically share them to the school sites. This massively helps schools keep on top of compliance as you will control these documents from the MAT site.
Compliance tool
One of our specialisms is our unique compliance software for your Trust and Academy websites. This software allows you to check your site against the latest guidance all in one place. The result is an actionable report for you and your team. You do not need to have a website with us to benefit from this.
Discover more about this solution here.
Document view
The way in which our CMS displays documents in really unique. When you load a document via an embed code, the document can be opened within the page. This means you will not need to navigate away from the page. This ticks the box for 'readily accessible'.
To learn more about how we can support you with the Multi Academy Trust website compliance, get in touch.