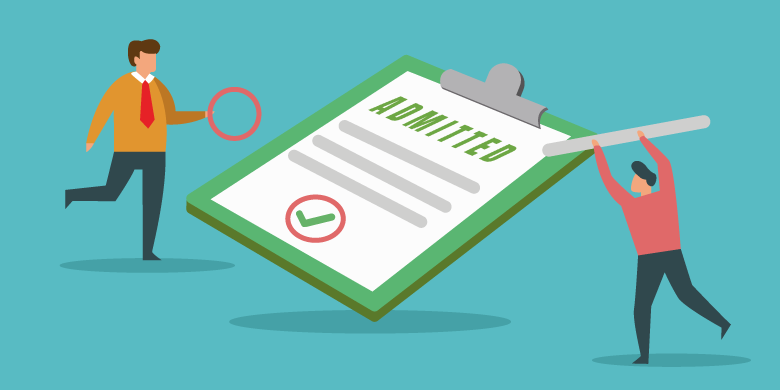 Getting your school admissions regulations right on your website is really important for two reasons. Firstly, school admissions are one of the larger sections of school website requirements.  But also, it is perhaps the first reason a person would engage with your site - looking into your admissions procedures. So they have to be more than just compliant. The regulations differ depending on your school setting. The requirements are more involved for schools where they determine their own admissions. As always - think of your visitor, what they want and provide the best experience for them.
School Admissions Regulations
Admissions are the entry point to your school, and prospective parents will almost certainly view them as they navigate your website. Having a clear and detailed admissions page can set an excellent first impression.
First of all, we should determine what the school admissions regulations require. The admission arrangement regulations differ depending on the type of school. You can view the details of what's required in Section 2 - Admission Arrangements.
The school admissions code, which details what schools are to follow, apply to all admission authorities. This includes maintained schools with governor determined admissions, as well as local authorities. The requirements listed for governor-determined admissions are then applicable for academies and free schools (as the school admissions code is used to govern both).
The length of time that the admission arrangement information should be displayed on your site is very important. They should be on the website for the whole year of that admission period.
We always recommend you add as much useful information as possible. Do not just upload the statutory content, but go above and beyond by including quotes and images from your reception students. You can do so much more and with not a lot more work. Start the parental journey, with strong positive engagement.
What were the latest updates to school website admissions?
The DfE updated their requirements for school admissions regulations in their recent update. This new information should have been published on your school website by 28th February 2021. As inspections have now recommenced, now is a perfect time to check your site to make sure this content is there. If it is not, you should urgently address this.
Let's take a look at those new requirements:
include a deadline for lodging appeals which allows those making an appeal at least 20 school days from the date of notification that their application was unsuccessful to prepare and lodge their written appeal
include reasonable deadlines for those making an appeal to submit additional evidence, for admission authorities to submit their evidence and for the clerk to send appeal papers to the panel and parties
ensure that those making an appeal receive at least 10 school days' notice of their appeal hearing
ensure that decision letters are sent within 5 school days of the hearing wherever possible
Community schools and voluntary controlled schools
If the local authority manages your admissions process, refer parents to the local authority to find out about your school's admission and appeal arrangements.
We would suggest prioritising publishing this information on your school at the earliest opportunity. As this requirement was updated in the most recent round of changes, you should be sure to  communicate this clearly and ensure it is easy to locate.
Competition and Oversubscription
We know from speaking to our schools that admissions are getting more competitive. A DfE commissioned report details some of the findings around admissions discovered by the additional data now available. The report is largely focused on the analysis of the decision-making process for parents around admission arrangements, but there are lots of other useful insights.
For example oversubscription. This is something almost all schools with an Ofsted rating of good or outstanding are now dealing with in their own school admissions regulations. The oversubscription criteria determines the process the school must follow in the case when more students apply than there are places for. You must clearly publish this criteria. Accounting for different groups of students, and how students would be chosen in a tie break situation.
Any changes to the admissions and oversubscription criteria must be changed in advance of the admissions process, including an admissions consultation. The guidance specifically mentions that consultation information must be published on the website of the admission authority for the duration of the consultation period. In a case where the school determines their own admissions, the admission authority website is the school website.
Key dates
1st Oct - 21st Jan: Consultations must take place between these dates, and last for a minimum of 6 weeks
28th Feb: The last day for admissions to confirm admissions in the determination year.
15th March: Admission arrangements must be determined by this date. And of course, published on the school website.
Read more in the schools admissions code.
To conclude
Be aware of the requirements, and be sure to check that you've met them. Even more so at the time of year when parents are considering options for their children. But also see this page as an opportunity to engage with your next group of parents at an early stage. This might be the only page they visit on your site the first few times they visit, so it needs to be more than just a list of documents. Keep up to date with your school website requirements with our definitive school website requirements guide. If you want to delve deeper into getting your website fully compliant why not enrol on the school website manager membership on SchudioTV?